The Pesoelima Lineage

Many years after I started to work on this family history, I received new important information about the Galala lineage (January 2002). From this I was able to conclude that the Pesoelima lineage is related directly to the Galala lineage. That's why untill now this branche was presented as a group on it self. See also the Galala Lineage.
The name is written as Pesoelima because of the old Indonesian orthography.


I.1

Hendrik PESOELIMA
Born in Ambon on 13 August 1863, died in ... on 29 May 1945. Married in Batavia (Jakarta) 4 October 1899 to MINA, she was born in Sukabumi about 1867, daughter of ... .
Retired 1e Com. Rekenkamer (Government audit office) in Weltevreden (Weltevreden was a higher part of Batavia, which is the former name of Jakarta. It was located south of the old city, the Kota. The rich people and the Colonial Gouvernment moved to area of the country house Weltevreden during the 18th century because of the bad conditions of life in Batavia. One of the things was that in Batavia the water was of a very poor quality.).
'Gelijkstelling' (Levelling) to Europeans in October 1891.
Career: 1 June 1891 taken up office as clerk at the department of Financiën, 1 July 1898 clerk Alg. Rekenkamer, 3e Com. Alg. Rekenkamer in Batavia, Com. Rekenk. Weltevreden (1915), 2e Commies Alg. Reekenkamer in Batavia since 1 January 1913, Ged. 1e Com. Rekenkamer, Retired 1e Com. Rekenkamer Weltevreden (1934, 1941). At request from 2 June 1923 because of achieved term of office honourable discharge from public service. Hendrik Pesoelima was also active as a deacon in the church council of the Gereformeerde Kerk in Batavia.
They have a son: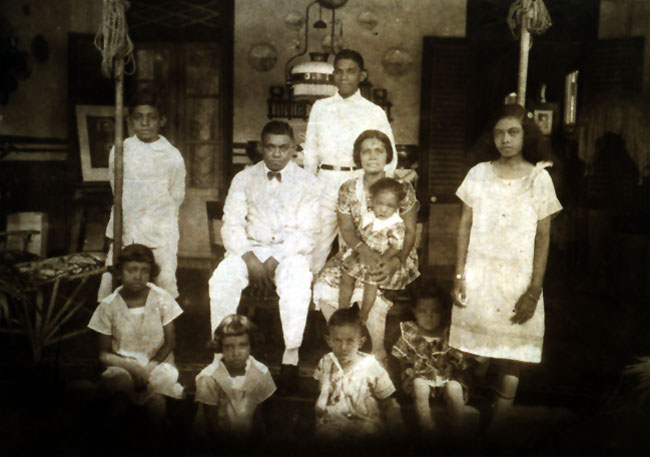 Thomas Hendrik Pesoelima and his family. In the front from left to right: Ruby, Deetje, Max Adolf and Anneke. Second row: Boetje, father Thomas Hendrik, mother Maartje Pesoelima-Hetharia holding Broery on her lap, and Albertina. Standing in the back: Hendrik. Picture used with permission of and made available by George and Ruby Moers-Pesoelima. Photographer unknown. Batavia (Jakarta) 1926 or beginning of 1927.
II.1

Thomas Hendrik PESOELIMA
Born in Batavia on 1 January 1891, died in ... on 14 February 1946. Married 1) Batavia 17 March 1910 to Maartje Alexandrine Elisabeth HETHARIA, she was born in Omar (Ambon) 4 November 1891 and died Batavia 26 December 1938, daughter of ... Married 2) in Batavia 1 November 1939 to SITIE, she was born in Buitenzorg (Bogor) 10 January 1895 and died ... , daughter of DE JONG and SARIHA.
Com. Hfd. bureau Scheepv. Btc. (1941).

Career (translated from Dutch into English without specific knowledge of military jargon): Clerk (1st clerk) Navy in Weltevreden, clerk (2nd 'commies') at the head office of Shipping, department of Navy in the Dutch-Indies since 24 May 1919, clerc (1st 'commies') since 17 April 1923 at department G, Staff Government Navy and beacon ships, Shipping, clerk (1st 'commies') department of Navy in Weltevreden (1925), clerk ('commies') head office Shipping Btc. (1941).

Carrière: 1e Klerk Marine Weltevreden, 2e commies bij het Hoofdkantoor van Scheepvaart, departement der marine in N.I. sinds 24 mei 1919, 1e commies sinds 17 april 1923 bij de afdeeling G, Personeel Gouvernements Marine en bebakeningsschepen, Scheepvaart, 1e Com. Dept. van Marine Weltevreden (1925), Com. Hfd. bureau Scheepv. Btc. (1941).
Children from the first marriage:
III.1
Hendrik PESOELIMA (jr.) (Henk)
Born Batavia 19 April 1910, died in ... on 12 February 1937.
III.2
Antonetta Jetzemina Fransina Maria Juliana PESOELIMA
Born Batavia 5 March 1912, died Batavia 26 April 1913.
III.3
Albertina Antonetta Juliana (Thea) PESOELIMA (Thea Albertine Antoinette Juliana according to gravestone).
Born Batavia 2 July 1913, died Batavia 5 March 1931. Buried 'Laanhof' Cemetery, Batavia, part C.
III.4

| | |
| --- | --- |
| | |
| | |
| | Boetje Pesoelima with his sisters Anneke (left) and Deetje (right). Photographer and year unknown. Picture used with permission of George and Ruby Moers-Pesoelima. |
| | |

Samuel Ambrosius Jack (Boetje, Jack) PESOELIMA
Born Batavia 25 May 1915. Died in ... on ... 1975. Married 1) Batavia 15 November 1939 to Charlotte Elvira (Ellen) MENSINGA, she was born Madjenang 1 December 1918, daughter of ... . Died ... . No children from this marriage. Married 2) in ... on ... to Lucia ABRAHAMSZ, she was born in ... on ..., daughter of ... . She lives in Jakarta.

Boetje Pesoelima was singer and drummer. He is mentioned in the book Batavia a swinging town!, written by Allard J.M. Möller:
After the breaking up of the very popular dancing orchestra the Brown's Sugar Babies in 1936, saxophonist Piet Bruyn van Rozenburg started a new jazz band with the rest of the musicians. That's how the Musical Rhythmics came to life. Apart from routinated musicians, some enthousiastic young people join the band. One of them is Boetje Pesoelima: 'a fantastic drummer, coming from Ambon', as the writer describes him. One of the places the band performes is the swimming pool Tjikini, crowd-puler of the Batavian high school youth. The band mainly playes the socalled hot-jazz, and beside that sometimes a walls, rumba or potpourri of Dutch songs. They play at parties and dancing nights but they are also requisted for the balls organised by the admiral in the Dutch Indies at Queen's Day. Evenings like these can be described as follows: 'The first part of such an evening was livened up by the Navy Band in the garden while the servants went around with cool drinks. After that it was dancing on the sounds of a smooth swinging orchestra. One should imagine the atmosphere of such a tropical night!' During the year 1937 the band faces some problems, upon which some musicians under which Boetje Pesoelima step out of the band. After the German invasion in the Netherlands in May 1940 the night life in the Dutch East Indies has a fall back. Nevertheless in the middle of 1941 a band is started with the name the Melody Makers. (Not to confuse with the band with the similar name that excisted for a short time in 1934.) One of the ten members of this band is Boetje Pesulima. It is an orchestra with good, experienced musicians, who all can play solo very good. 'One of the brilliant performers was Boetje Pesulima, in the general opinion a great drummer and singer.' The orchestra stays together untill 7 December 1941, the date of the attack on Pearl Harbour and one day before the general mobilization in the Dutch East Indies.
Short after the capitulation of Japan on the 15th of August 1945, Charlie Overbeek Bloem receives a message from the Welfare, an organisation for military welfare. At that moment he still is in the camp in Bandung, where he was a prisoner of war. He is told to go to the Welfare Batavia as quickly as possible. There he receives an order to form a dancing orchestra. With some trouble he manages to find musicians and instruments. In February 1946 he starts the seven headed band Musketeers of Swing with among others Boetje Pesulima. Gradually the group expands to a real big-band that became famous as Charlie Overbeek Bloem en zijn Welfare Band. The group plays music of American big-bands such as Benny Goodman, Tommy Dorsey and Glen Miller. The band ceases to excist in September 1946, after performing almost every day and 'bringing the necessary recreation to so many people', according to the author. On the station Radio Batavia amusement plays an important role. One of the smaller groups that was broadcasted is Three Blind Mice, with Doddy Gootjes (piano) and Dick van der Capellen (bass) and also Boetje Pesulima (drums). Influenced by among others bebop-star Charlie Parker, a modern jazz-style is presented.

Boetje Pesoelima was zanger en drummer. Hij wordt genoemd in het boek Batavia a swinging town!, geschreven door Allard J.M. Möller:
Na het uiteenvallen in 1936 van het zeer populaire dansorkest de Brown's Sugar Babies, wordt door saxofonist Piet Bruyn van Rozenburg met het restant van de musici een nieuwe jazzband opgericht. Zo ontstaat de Musical Rhythmics. Naast de geroutineerde musici trekt men een stel enthousiaste jonge mensen aan. Eén van hen is Boetje Pesulima: 'een fantastisch drummer, afkomstig van Ambon', zo noemt de schrijver hem. De band speelt onder meer op de zondagse matinee's in zwembad Tjikini, trekpleister van de Bataviase middelbare schooljeugd. De band speelt voornamelijk de zogenaamde hot-jazz, en verder een enkele wals, rumba of potpourri van Hollandse liedjes. Men speelt op fuiven en dansavonden maar wordt ook gevraagd voor de bals die de vlootvoogd in Nederlands-Indië gaf, ter gelegenheid van Koninginnedag. Zo'n avond wordt als volgt beschreven: 'Het eerste gedeelte van zo'n avond werd opgevrolijkt door de Marinekapel, in de tuin, terwijl de bedienden rondgingen met koele dranken. Daarna was het dansen op de tonen van een soepel swingend orkest. Men stelle zich de sfeer van zo'n tropenavond voor!' In de loop van 1937 ontstaan wat problemen in de band, waarop enkele muzikanten waaronder Boetje Pesulima uit de band stappen. Na de Duitse inval in Nederland in May 1940 kent Indië een terugval in het uitgaansleven. Toch wordt midden 1941 nog een band opgericht onder de naam de Melody Makers. (Niet te verwarren met een gelijknamige band die in 1934 korte tijd bestaan heeft.) Eén van de leden van de tienmans-formatie is Boetje Pesulima. Het is een orkest met allemaal goede musici met ruime ervaring die allen heel goed solo kunnen spelen. 'Eén van de uitblinkers was wel Boetje Pesulima, naar aller mening een geweldige drummer en zanger.' Het orkest blijft bij elkaar tot 7 December 1941, de datum van de aanval op Pearl Harbour en een dag voor de algemene mobilisatie in Indië.
Kort na de capitulatie van Japan op 15 August 1945 krijgt Charlie Overbeek Bloem bericht van de Welfare, een organisatie voor welzijnszorg voor militairen. Hij bevind zich nog in het kamp in Bandung, waar hij in krijgsgevangenschap heeft gezeten, en krijgt opdracht om zich zo snel mogelijk bij de Welfare in Batavia te melden. Daar aangekomen krijgt hij de opdracht een dansorkest te formeren. Met enige moeite slaagt hij erin om musici en instrumenten te vinden, zodat in february 1946 de zeven-mans band Musketeers of Swing van start gaat, met onder andere Boetje Pesulima. Gaandeweg wordt de groep uitgebreid tot een echte big-band die bekend wordt als Charlie Overbeek Bloem en zijn Welfare Band. Men speelt muziek van Amerikaanse big-bands als die van Benny Goodman, Tommy Dorsey en Glen Miller. De band houdt op te bestaan in september 1946, na vrijwel dagelijks gespeeld te hebben en 'velen de zo nodige ontspanning gebracht te hebben', aldus de auteur. Op de zender Radio Batavia heeft amusement een belangrijke plaats. Eén van de kleinere groepen die te horen zijn, is Three Blind Mice, waarin naast Doddy Gootjes (piano) en Dick van der Capellen (bas) ook Boetje Pesulima (drums) speelt. Onder invloed van onder anderen bebop-ster Charlie Parker, wordt een moderne jazz-stijl ten gehore gebracht.

Mister Boy Naberman from Amsterdam describes the atmosphere of a music performance in those days:


'Het zal in het begin van de jaren '50 geweest zijn dat ik Boetje Pesoelima zag en hoorde spelen en zingen.


Het was in die geweldige tijd na de capitulatie van Japan tot het vertrek van de Nederlanders uit Indonesia. Stel u voor, wij moesten 4 jaar jazz en swing achterstand inhalen.
Over Radio Colombo, Australia Calling en later over de normale plaatselijke radiostations kwamen swing, jazz en bebop als ook country en boogy-woogie tot ons. Even later de swing en jazz films. Grammofoonplaten werden uit Singapore gehaald. De NIWIN/Welfare bracht ons orkesten als het Miller Quartet met de onvergetelijke Sanny Day.
Ik woonde in een zijstraat van Gondangdia in Jakarta. Dat is vlak bij de dierentuin (Tjikini), waaraan een complex van bioscoop, restaurant en danszaal was verbonden dat Garden Hall heette. Daarnaast was het Tjikini zwembad gelegen waar ook een dansgelegenheid was. Gondangdia was de weg naar het Manggarai zwembad waar elke zondagmiddag werd gedanst.
Ik was toen 16 tot 25 jaar oud. Het was in die tijd niet alleen kommer en kwel. Het uitgaansleven bloeide als nooit tevoren. Bij het luisteren naar muziek en tijdens het dansen werden alle tegenstellingen vergeten. Knil- en Hollandse KL soldaten, Marine, Indische meisjes en jongens, Indonesische republikeinen en noem maar op, het ging er swingend aan toe. De jitterbug vierde hoogtij. Het was ook de tijd van de grote schoolfeesten.
Kortom, het was een ongebreidelde en vrije toestand waarbij de onlusten en ongeregeldheden als het ware een spannende achtergrond vormden.
Stel u een dansvloer voor in de open lucht (Garden Hall), omringd door reusachtige kanaribomen, de volle maan aan een met sterren bezaaide hemel. Het is ongeveer 30 graden Celcius. Een grote kring gezellige zitjes er omheen. Bomvol, scholieren, employés, militairen, Garuda-stewardessen, KL-militairen etc. etc. allemaal bijeen.
En daar speelt een orkest of kwartet waar Boetje Pesoelima achter de drums zat en de onlangs overleden Nick Mamahit achter de piano. Ik weet niet meer hoe ze zich noemden. In die tijd speelden de heren (o.a. Charlie Overbeek Bloem, Sinsoe, v.d. Capellen) in wisselende samenstelling op allerlei gelegenheden. Boetje zong ook vaak.
Ook de Royal Hawaiian Minstrels van Tjo de Fretes waren zeer populair.'


Children from the marriage of Boetje Pesoelima and Lucia Abrahamsz:
IV.1
Samuel Hendrik Jack (Jack) PESULIMA
Born Jakarta 16 September 1965. He lives in Jakarta.
He was married to Sarah Hanna TEROK (from Menado).
Career: both are teacher.
They have one son:
V.1
Joshua Rajendra Putra PESULIMA
He was born in ... on 3 April 2007.
IV.2

| | |
| --- | --- |
| | |
| | |
| | Barbara Pesulima |
| | |

Barbara Elisabeth Lucia (Babs) PESULIMA
Born in ... on 8 July 1964. Married to Ivan Luthfie PURNAMAPUTRA, a violin player, he was born in ... on ..., son of ... . They live in Jakarta.
Profession: teacher Dutch at Universitas Indonesia
One daughter:
V.1
Natasha Renata PURNAMAPUTRA
She was born in ... on 3 August 1994.
III.5

| | |
| --- | --- |
| | |
| | |
| | Ruby Moers-Pesoelima and her husband George Moers in a happy setting. Picture made available by and used with permission of Douglas Dirksen . |
| | |

Freddy Robine (Ruby) PESOELIMA
She was born in Batavia (Jakarta) on 29 May 1917, she died in San Dimas, California on 24 November 2004, 87 years old. Partner 1) is Halbe Jacob YKEMA born Akmarijp, Friesland, the Netherlands on 11 February 1917. He was fallen in battle in Makassar and died 8 August 1950.
She was married 2) in Jakarta on 8 September 1950 to George Ruthgerus Henricus MOERS, he was born in Roermond (the Netherlands) on 17 February 1926, son of Hendrik Joseph MOERS and Anna Catharina JOCHEMS. He died in ... (USA) on 28 August 2003, 77 years old. Uncle George was very committed to and enthusiastic about the Family History and this web site and he helped with giving a lot of information.

Tante Ruby heeft van kind af in Batavia (Jakarta) gewoond. Ze vertelt dat de opvoeding die ze als kind heeft gehad wel ouderwets en streng was, maar dat ze haar ouders toch als heel lieve mensen heeft ervaren. Haar school was de Tweede Bijbelschool. 'Ik heb een heerlijke jeugd gehad', zegt tante Ruby. 'Bij ons thuis kwamen altijd mijn vrienden en vriendinnen over de vloer. Ook die van mijn broers en zussen. Ik herinner me nog heel goed het thee-uurtje in de tuin. Vader en moeder waren er ook bij, onze vrienden en vriendinnen. In onze mooie tuin hadden we dan een gezellige thee-party. We hadden vier bedienden die alles voor ons deden. Opa Pesoelima heb ik nog wel gekend, he is very strict, maar ze zijn alles voor ons. Mijn vader is hoofdcommies van de Gouvernements Marine. Hoewel mijn opa van Ambon kwam, ben ik daar nooit geweest. Mijn vader is wel zeker één keer op bezoek naar Ambon geweest. Verder hadden wij buiten ons gezin geen familie van mijn vaders kant in de directe omgeving. Thuis ging ik het meeste om met mijn oudste broer Henk en mijn oudste zus Thea.'
Tante Ruby trouwde voor de oorlog met Halbe Jacob Ykema (uit Friesland), een onderluitenant bij het KNIL. Hij is aan het eind van de oorlog in Makasser gesneuveld. 'Na de oorlog wilde ik niet naar Nederland. Ik bleef liever op mijn plaats met al mijn familie om mij heen. In Batavia heb ik mijn huidige echtgenoot George Moers leren kennen, die als militair vanuit Nederland naar Indië gezonden was. Hij werkte later bij verschillende ondernemingen in Krawang, Bandung en Soekabumi. Met oom George ben ik in 1957 alsnog naar Nederland gegaan. Wij kwamen toen in Bennekom terecht. Het beviel helemaal niet in Nederland. Ten eerste kon ik maar niet wennen aan het koude weer. Verder vond ik het allemaal erg beperkt, een klein huis, geen bedienden meer. Oom George werkte in die tijd bij de Post cheque en girodienst in Arnhem. In July 1959 zijn we naar Los Angeles (California) in de Verenigde Staten vertrokken. (In het kader van een regeling de Pastor Walter Act [of de McCarran-Walter Act], waardoor veel Indische mensen naar Amerika konden gaan.) George vond er snel werk. Ik voelde me er meteen veel prettiger. Het klimaat in California beviel goed en we kwamen er tal van vrienden en kennissen tegen. Het voelde hetzelfde als in Indonesië, de mensen om je heen, een mooi huis, een fijne tuin met mooie planten en bloemen. We gingen ook veel bij vrienden en kennissen op bezoek. Leerden er ook leuke mensen kennen. De taal was geen enkel probleem, als kind hadden we al een beetje Engels geleerd en we konden ons er prima mee redden.' Oom George vult aan: 'Inmiddels (anno 2003) wonen we al 43 jaar in de VS. Sinds 1961 zitten we in Oxnard waar het klimaat zeer goed is, geen last hebben van de winter en op ongeveer 15 minuten rijden van de oceaan.' Tante Ruby: 'Onze jongste dochter is ook met een Amerikaan getrouwd.' 'We zijn nog wel in Nederland op vakantie geweest om mijn broers Bennie en Broery te ontmoeten. Ook ben ik twee keer naar Indonesië geweest . In 1985 heb ik toen mijn twee zusjes Deetje en Anneka weer gezien. In 1994 zijn we opnieuw bij Anneke geweest en bij andere familieleden.'

They lived in Oxnard, CA (USA) and they have two daughters:
| | | | | |
| --- | --- | --- | --- | --- |
| | | | IV.1 | Rita Elisabeth MOERS, she was born in Jakarta on 22 January 1948. She married in Las Vegas (USA) on 3 May 1967 to Arthur Louis Dirksen, born in Singaradja 10 June 1936. They have two sons. |
| | | | | |
| --- | --- | --- | --- | --- |
| | | | IV.2 | Maureen Barbara MOERS, she was born in Jakarta on 12 February 1950. She married in Oxnard, CA (USA) on 15 May 1971 to David Gene Bynum, born in Ventura, CA (USA) 5 January 1950. They have three daughters and two sons. |
III.6
Polly Maria (Deetje) PESOELIMA
Born Batavia 27 January 1920, she died in Jakarta on .. November 1989. She was married to Otto Eugene LESIMANOEAJA.
She had seven children:
| | | | | |
| --- | --- | --- | --- | --- |
| | | | IV.1 | Jonas LESIMANOEAJA. He was born in ... on ... , he died young. |
| | | | | |
| --- | --- | --- | --- | --- |
| | | | IV.2 | Eric ... LESIMANOEAJA. He was born in Jakarta on 25 November 1948. (Two children: Tamara, born in 1976 and Robert, born 1981.) |
| | | | | |
| --- | --- | --- | --- | --- |
| | | | IV.3 | Ellen LESIMANOEAJA. She was born in Jakarta on 31 December 1949. (Three children: Cliff, Gelsy and Perry.) |
| | | | | |
| --- | --- | --- | --- | --- |
| | | | IV.4 | Ilse LESIMANOEAJA. She was born in Jakarta on ... . She died in ... on ... . (Two children: Radji and John John.) |
| | | | | |
| --- | --- | --- | --- | --- |
| | | | IV.5 | Franky LESIMANOEAJA. Born in ... on ..., he died in Jakarta on .. November 2007. No children. |
| | | | | |
| --- | --- | --- | --- | --- |
| | | | IV.6 | Robert LESIMANOEAJA. Born in Jakarta on ... . No children. |
| | | | | |
| --- | --- | --- | --- | --- |
| | | | IV.7 | Alfred LESIMANOEAJA. Born in Jakarta on ... , he died in ... on ... . No children. |
| | | | | |
| --- | --- | --- | --- | --- |
| | | | IV.8 | Joyce LESIMANOEAJA. She was born in Jakarta on ... . (Three children: Olivia, Esther and Ade.) |
III.7
Max Adolf Benjamin PESOELIMA
Born Batavia 10 May 1922, died Batavia 27 (CBG) or 29 (IGV grafschrift) August 1927. Buried 'Laanhof' Cemetery, Batavia, afdeling C.
III.8
Martha Berbaline Maartje Wilhelmina (Anneke) PESOELIMA
Born Batavia 30 March 1924. Married in ... on ... to Josias L. (Jos) LOUPIAS. He died Jakarta, 22 May 1997. She lives in Jakarta.
III.9

Cornelis Barend Josias (Broery) Pesoelima
Picture used with permission of George and Ruby Moers-Pesoelima.

Ethne Pesoelima-De Feniks
Picture used with permission of Gina Pesulima.




Cornelis Barend Josias (Broery) PESOELIMA
Born Batavia 7 October 1925, died in Bloemendaal 1 May 1961. Married Batavia 14 February 1946 to Ethne DE FENIKS, she was born Surabaya 19 April 1928, daughter of Richard David DE FENIKS and Adele Josephine DEROZARIO. She died in ... (USA) on February 21st 2018. Cornelis Pesoelima was sergeant corporal in the Dutch Royal Navy.

Career Navy, quoted from the Royal navy registration (translated from Dutch into English without specific knowledge of military jargon): 4 March 1942 entered into a free engagement at the naval service as a marine of the third class (professional), joined up at the naval barracks Goebeng (at Java near Surabaya). 10 March 1942 in Japanese captivity. 15 August 1945 out of Japanese captivity. 1 March 1946 marine of the second class. 1 April 1946 transferred to the marines brigade Dutch Indies. 1 August 1946 corporal (temporarely). 1 September 1946 marine of the first class under maintenance of his temporarely rank. 1 February 1948 sergeant (temporarely). 1 October 1948 brought in the quality of and promoted to Corporal writer under maintenance of his temporarely rank. 1 January 1949 temporarely rank drawn in. 7 February 1949 transferred to the naval barracks Kruiserkade. 3 May 1949 left Indonesia per SS 'Volendam'. 19 May 1949 passed the tropic. 1 June 1949 arrived in the Netherlands. That date placed at the submarine duty. 15 August 1949 transferred to the department Marines in Doorn. 20 February 1959 transferred to the submarine duty Rotterdam. 18 October 1950 placed on board of Hr. Ms. Guard-ship 'Amsterdam'. 10 November 1950 left the Netherlands per SS 'Groote Beer'. 21 November 1950 passed the tropic. 9 December 1950 arrived in Dutch Nw.-Guinea. 9 December 1950 placed on board of the Hr. Ms. 'Boeroe'. 1 February 1951 transferred to the naval barracks Hollandia. 6 July 1951 transferred to the marine airfield Biak. 2 January 1952 left Dutch .Nw-Guinea by plane. 3 January 1952 passed tropic. 4 January 1952 arrived in the Netherlands. That date placed at the naval barracks Amsterdam. 31 January 1952 transferred to the marine airfield Valkenburg. 23 January 1953 detached to the Marine trainee post Hilversum. 28 March 1953 detachment ended. 1 August 1953 Sergeant-writer. 16 September 1957 placed on board of Hr. Ms. 'Heemskerk' / Detached on board of Hr. Ms. 'Batjan' and employed on board of Hr. Ms. 'Utrecht'. 1 October 1957 placed on board of Hr. Ms. 'Utrecht'. 1 October 1957 at the Royal Navy out of presence enrolled as common conscript of the draft 1958 from the council Rotterdam at the number 4882. 29 January 1959 transferred to the Navy Attendance centre Voorschoten. 25 April 1960 transferred to the Social Medical Service for revalidation. 27 March 1961 detached at the Submarine duty Rotterdam. 1 May 1961 end of detachment. Decorations: Awarded the 'Ereteken voor Orde en Vrede' (Mark of honour for order and peace) with the clasp '1947'. Awarded the Bronze Medal.



Carière Marine, ontleend aan de registratie van de Koninklijke marine: 4 maart 1942 een vrijwillige verbintenis aangegaan bij de zeedienst als Marinier der derde klasse (beroeps), opgekomen bij de marinekazerne Goebeng. 10 maart 1942 in Japanse krijgsgevangenschap. 15 augustus 1945 uit Japanse krijgsgevangenschap. 1 maart 1946 marinier der tweede klasse. 1 april 1946 overgeplaatst naar de mariniersbrigade Indië. 1 augustus 1946 korporaal (tijdelijk). 1 september 1946 marinier der eerste klasse onder handhaving van zijn tijdelijke rang. 1 februari 1948 sergeant (tijdelijk). 1 oktober 1948 overgebracht in de kwaliteit van en bevorderd tot Korporaal schrijver onder handhaving van zijn tijdelijke rang. 1 januari 1949 tijdelijke rang ingetrokken. 7 februari 1949 overgeplaatst naar de marinekazerne Kruiserkade. 3 mei 1949 uit Indonesië vertrokken per SS 'Volendam'. 19 mei 1949 keerkring gepasseerd. 1 juni 1949 In Nederland aangekomen. Op dato geplaatst bij de onderzeedienst. 15 augustus 1949 overgeplaatst naar de afdeling Mariniers in Doorn. 20 februari 1959 overgeplaatst naar de onderzeedienst Rotterdam. 18 oktober 1950 geplaatst a/b van Hr.Ms. Wachtschip 'Amsterdam'. 10 november 1950 uit Nederland vertrokken per SS 'Groote Beer'. 21 november 1950 keerkring gepasseerd. 9 december 1950 in Ned.Nw.-Guinea aangekomen. 9 december 1950 geplaatst a/b van Hr.Ms. 'Boeroe'. 1 february 1951 overgeplaatst naar de marinekazerne Hollandia. 6 juli 1951 overgeplaatst naar het marinevliegkamp Biak. 2 januari 1952 uit Ned.Nw-Guinea vertrokken per vliegtuig. 3 januari 1952 keerkring gepasseerd. 4 january 1952 in Nederland aangekomen. Op dato geplaatst bij de Marinekazerne Amsterdam. 31 januari 1952 overgeplaatst naar het marinevliegkamp Valkenburg. 23 januari 1953 gedetacheerd bij het Marine Opleidingskamp Hilversum. 28 maart 1953 detacering beëindigd. 1 augustus 1953 Sergeant-schrijver. 16 september 1957 geplaatst a/b van Hr.Ms. 'Heemskerk'/Gedetacheerd a/b van Hr.Ms. 'Batjan' en tewerkgesteld a/b van Hr.Ms. 'Utrecht'. 1 Oktober 1957 geplaatst a/b van Hr. Ms. 'Utrecht'. 1 Oktober 1957 bij de Koninklijke Marine buiten tegenwoordigheid ingelijfd als gewoon dienstplichtige van de lichting 1958 uit de gemeente Rotterdam onder nummer 4882. 29 Januari 1959 overgeplaatst naar het Marine Opkomstcentrum Voorschoten. 25 April 1960 overgeplaatst naar de Sociaal Medische Dienst ter revalidatie. 27 Maart 1961 gedetacheerd bij de Onderzeedienst Rotterdam. 1 Mei 1961 detachering beëindigd. Decoratiën: Toegekend het Ereteken voor Orde en Vrede met de gesp '1947'. Toegekend de Bronzen Medaille.



Two children:
IV.1
Jack Barry PESULIMA
Born Batavia (Jakarta) 15 October 1945. Married in ... on ... to Kathleen CALLAHAN, born in ... on ..., daughter of ... .
They have two children:
V.1
Gina Marie PESULIMA
She was born Granada Hills, CA (USA) on 20 February 1968. She married Oakland, CA (USA) on 3 November 2001 to Stephen Courtney (SP) PALENCAR, born Detroit, MI (USA) on 3 March 1968, son of Philip PALENCAR and Sharon ALTMAN.
V.2
Denise C. PESULIMA
She was born Panarama City, CA (USA) on 6 December 1974.
IV.2
Ingrid Winnefred (Inge) PESULIMA
Born in Surabaya 5 September 1948. Married in ... on ... to David Harry BENSON. He was born in ... on ... .
They live in the USA.
One child:
V.1
Jack Thomas BENSON
He was born Los Angeles on February 19 1967. (Two children: ... .)
III.10
Albert Leopold (Ben) PESOELIMA
He was born in Batavia on 8 August 1927, he died in Groningen 9 July 1997.
He was married in ... on ... to ... (tante Mary) . She was born in ... on ... .

Uncle Ben was a musician in Jakarta and a civil servant in Groningen, The Netherlands.
Oom Ben Pesoelima was in de periode 1946-1966 een muzikant van naam in Indonesië.
'In 1938 (ik was 11 jaar) trad ik als plectrum-gitarist toe tot de hawaiiangroep The Little Boys die werd getraind door de beroemde Ed Latumeten. De groep verzorgde voornamelijk radio-optredens voor de NIROM (Nederlandsch-Indische Radio Omroep) in Batavia.' Dit project was echter van korte duur. Tijdens de Japanse bezetting was Hawaiian-muziek streng verboden. Oom Ben werkte gedurende de oorlogsjaren bij een muziekgroep die onderdeel uitmaakte van het toneelgezelschap Tahaja Timur. 'In 1945 werd de hawaiiangroep Suara Putra Maluku samengesteld. Deze groep verzorgde muziek voor legeronderdelen in de hele archipel. Een groot repertoire van internationale songs, zowel dans- als luistermuziek, werd uitgevoerd met een perfecte close-harmony vocal, op z'n Amerikaans dus. Het betekende bijna vijf jaar touren met korte stops in Batavia. Daar deden we incidenteel nog wat radio-werk. De band werd ontbonden toen na verloop van tijd de Nederlandse Militaire Welfare werd opgeheven. Chas. Lamoh (ex-Big Boys) heeft me toen gevraagd me aan te sluiten bij zijn groep Suara Maluku voor praktisch uitsluitend radio-werk.'

In de periode 1954 tot 1957 coachte oom Ben een schoolorkest bestaande uit studenten van de Hogere Politieschool te Sukabumi.
'In 1958 werd ik gevraagd om op free lance-basis mee te doen aan de band Ramé Dendang uit Jakarta. In deze band heeft ook Coy Pereira nog een jaar gespeeld, tot zijn vertrek naar Nederland in 1960. Het was een groep met een staat van dienst om U tegen te zeggen. We hebben voor tal van hoogwaardigheidsbekleders gespeeld: Chroesjtsjov, Tito, Soekarno zelf, Howard Jones (VS-ambassadeur) en anderen. De locaties waren het Presidentieel Paleis te Jakarta, het buitenverblijf van Soekarno op Bali, Wisma Nusantara (het voormalige Sociëteitsgebouw de Harmonie), Hotel des Indes etcetera. Medespelers waren onder meer de bekende drummer en zanger broer Boetje, pianist Didi Tjia en trompetist Ariêtes.' 'Op verzoek van de TVRI (Televisie Republiek Indonesia) heb ik rond 1960 een session-groep gerund, ter begeleiding van aankomend talent dat zich presenteerde in het programma Bakat-bakat-baru Menghidangkan (Nieuw talent presenteert zich).'

In 1966 is oom Ben met zijn gezin naar Nederland vertrokken. In 1980 heeft hij, ter afsluiting van zijn muzikale loopbaan nog enkele keren met een hawaiianband uit Groningen in het land opgetreden. (Source: Spirit of Aloha, 2e volume, nr. 1, 1997.)

One daughter.
These persons were found in the 'Indisch adresboek':
PESOELIMA, Ch.C. = Empl. Paketv. Weltevreden.

PESOELIMA, S.A. = Klerk Crisis Invoer Bureau, commies redacteur bij het Bureau Nijverheidsvoorlichting. (Maybe the same as Samuel Ambrosius Jack Pesoelima who is mentioned above?)